INFINIT was started in 2003, by a group of endurance athletes with one goal: To create a better way to fuel & hydrate.
After years of research and months of "playing mad scientist" in his kitchen, founder and CEO Michael Folan created the first mix of what would become INFINIT's cornerstone endurance formula, GO FAR. 
The result — An all-in-one isotonic drink that allows you to just drink your stuff and go. Eliminating the need for gels, chews, bars, and salt pills.
Since then, INFINIT has been helping athletes of all sports and disciplines reach their potential through premium natural nutrition solutions. Combining isotonic energy and hydration with premium protein and recovery blends that provide simple evidence-backed nutrition to support optimal athletic performance.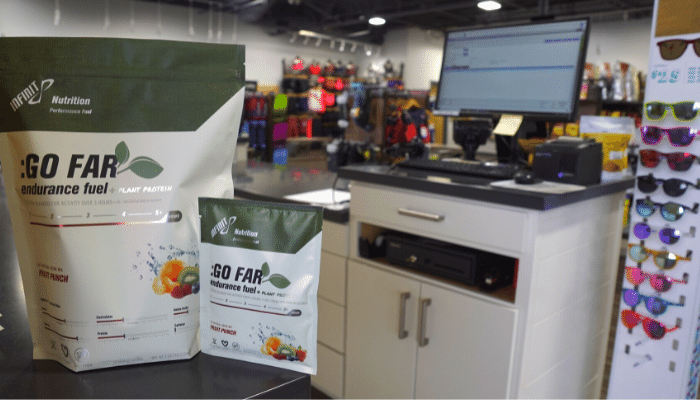 INFINIT Retail Partnerships
INFINIT Nutrition started in a garage and over the past 2 decades has grown into an international brand with an elite roster of professional athletes fueling their performances solely with INFINIT. 
This would not have been impossible without our brick and mortar partners.
Using the success of our custom-blended athlete-specific formulas as a foundation, we developed a full retail product line — INFINIT Presets — to boost your customers' performance and improve their experience through simple, clean hydration & recovery drink mixes.
No need to waste time explaining some complicated system of energy gels and nutrition bars — "Drink a bottle an hour" is all your customers need to know.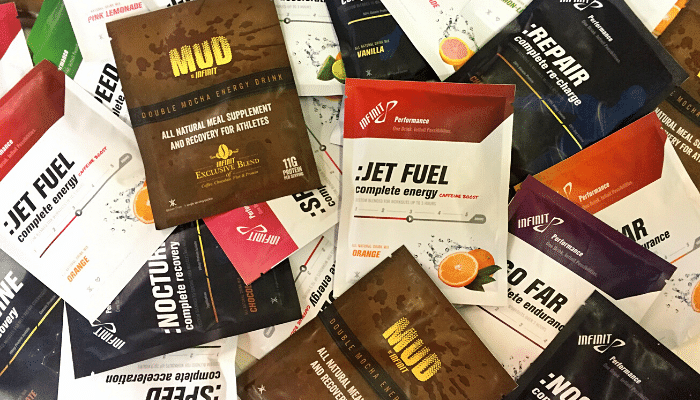 Situationally formulated to meet the needs of the masses, INFINIT Preset mixes were formulated from decades of working with athletes to develop Custom Nutrition Blends that work for unique body types. 
Simplified Sports Nutrition
Complete all-in-one nutrition and hydration solutions formulated by sports nutrition experts to fuel peak athletic performance & support maximum results.
Our performance blends and recovery blends are meant to replace any other mixes, bars, gels, or salt pills with the simple pitch of "one serving per hour — Just drink your stuff and go."
Made in the USA with 100% natural clean ingredients. Formulated with an exclusive electrolyte blend with sea salt. Sweetened with pure cane sugar. No colors or dyes. Zero artificial sweeteners or preservatives.
Want to see INFINIT in your shop? Well, we do too…
INFINIT supports local independent bicycle and running stores. We are dedicated to supporting local businesses by giving them the opportunity to carry the best all-natural Sports Fuel & Recovery Nutrition available on the market today.
Enter your information below to request a free sample pack and information on becoming an INFINIT retailer.
Please provide the following information in order to process your samples request.
$('html,body').animate({ scrollTop: 0 }, 'slow');