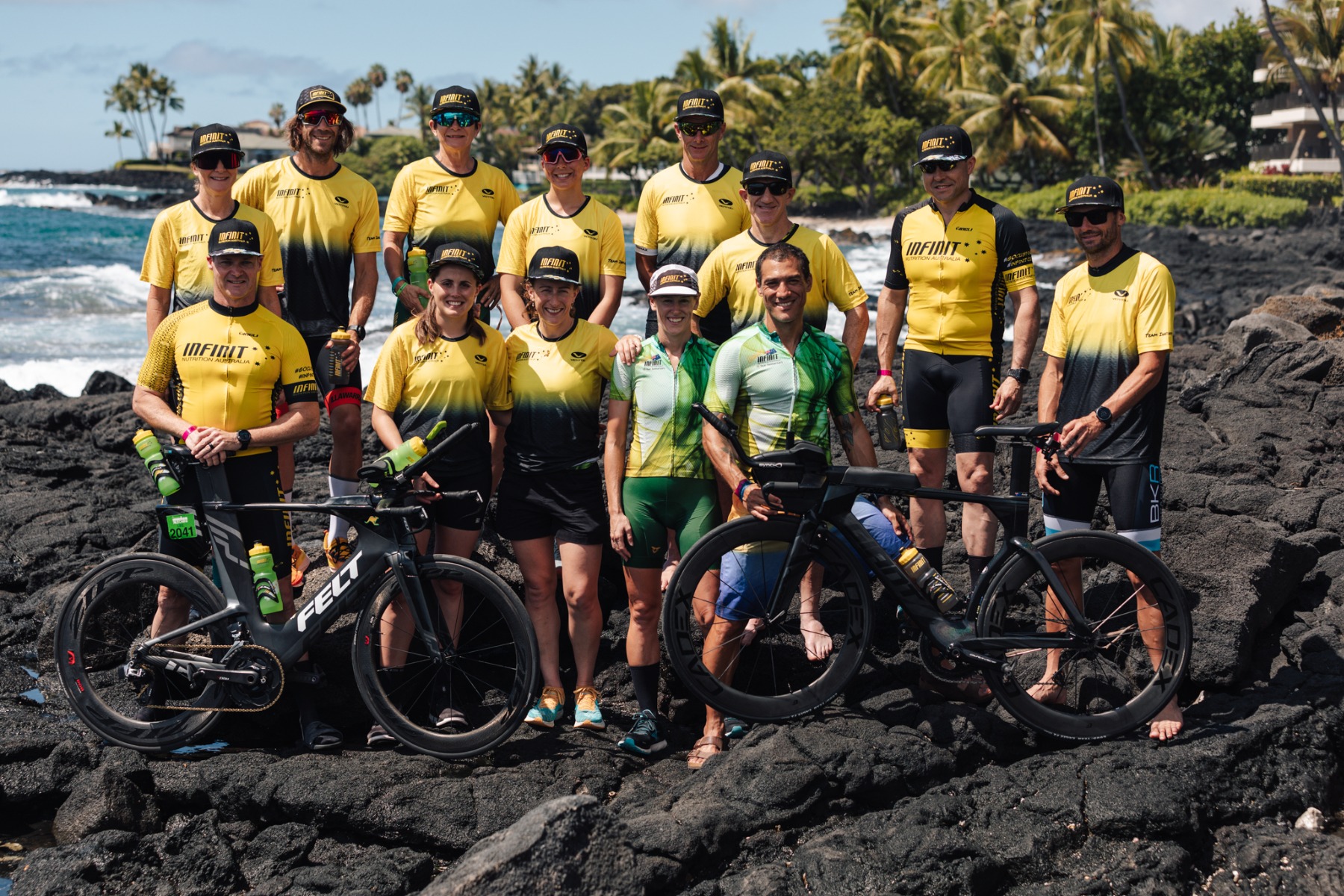 Meet some of the athletes that make up the Team INFINIT roster. We're proud to fuel these incredible athletes as they chase their dreams and embody the #IamINFINIT spirit.
5x Iron Distance Champion
7 x IMWC Finisher
2020 Ironman Cairns - 2nd Overall
2021 Ironman Cairns - 2nd Overall
2022 Challenge Shepparton - 1st Overall
2022 Ironman Australia - 1st Overall
2022 Ironman Cairns - 4th Overall
In the sport of Triathlon, few names elicit the same reaction as Tim Berkel. If you have ever been at a race with him, or have had the opportunity to talk to him, you will know why people regard him as "The Good Guy of Triathlon." Dedicated father and athlete, Berks has a gained a sizable following over the 15+ years he's been racing at the professional level.
From 2004 – 2006 Tim, or Berks as he is known, notched up a string of impressive results in triathlons at Olympic and half-Ironman distances across Australia and internationally. He turned professional at the age of 21. In 2007, Berks debuted at Ironman distance in the Australian Triathlon Championships at Port Macquarie. He finished 7th, qualifying him for the World Championship. Unlike most ambitious young athletes, Tim decided not to immediately book his ticket for Kona. As he said in a later interview: "There's no way I was ready to go to Kona and mix it with the world's best. I thought, 'Let's not rush it… let's develop it… and that's what I've been doing.'"
In 2011, Berks took the win in a thrilling 'come from behind' victory at Challenge Copenhagen - his third Iron Distance title -  making him the youngest 3-time Ironman distance champion in the sport's history – a title that he still holds.  It wasn't until 2014 that Berks ventured to the Big Island for his maiden run at the Ironman World Championship in Kailua-Kona, Hawaii.  An impressive 7th place finish, after holding 4th position during the run, saw the Kona cherry popped, and the first of many appearances in Kona.
With his own custom blends, Tim's nutrition is dialed in perfectly as he adds to his impressive record of victories and first-place finishes.
Fun Facts About Berks:
∞ He grew up playing Australian Rules Football
∞ His go to INFINIT Recovery product is Vanilla Repair
  Follow Tim on Instagram @timberkel
17 x Middle Distance Champion
30 x Podium finishes
2020 Ironman Asia Pacific Champion
2021 Ironman Asia Pacific Championship - 2nd Overall
2022 Challenge Shepparton Champion
2022 Laguna Phuket Triathlon Champion
2023 Challenge Samorin - 4th Overall
2023 Ironman Melbourne 70.3 Champion


One of the Worlds best middle distance triathletes Amelia kickstarted her career in 2016 with over 10 wins in the one season. Since then She has never placed outside of the top 10, claimed Ironman Asia Pacific Champion, a 5th Place at the PTO Championships and has a 2021 series ranking of 18th. Out of lycra Amelia is indulging in the local culture, embracing the environment, and photographing the journey. Amelia has big goals to keep New Zealand on the sporting stage and is honoured to be a part of elite women's sport rising to a prime. 
"Don't be afraid to give up the good and go for the great."
An unfortunate bike accident in early 2022 saw Meals laid up for most of 2022, however she climbed back on the horse and produced podium performances at both Ironman 70.3 Melbourne and Noosa Triathlon.  Early 2023 saw her place top 10 in both the Time Trial and Road Race events at the National Cycling Champs in Victoria before heading overseas to spend time training and racing in Europe.  Whilst over there, we have no doubt Meals will be mixing it with the best and making her way up the PTO World Rankings.
Fun Facts About Amelia:
∞ Amelia won her first ever Ironman race at only her second attempt at the full distance!
∞ Her go to INFINIT product is RENEW - she even helped us develop it!
  A on Instagram @ameliarosewatkinson
Australian World Cup Team Member 2018
Surf Sports Athete of the Year 2020
2018 - Australian Open Ironwoman Champion
2019/2020 - Nutri Grain Iron Series Champion
2020/2021 - Nutri Grain Iron series Champion
2020 - Coolangatta Gold Champion
Lana Rogers is a Professional Surf Ironwoman growing up on Sydney's Cronulla Beach before moving to Noosa, Qld in 2016 to continue her development in the surf sports arena.  The following year she was named the "Biggest Outbreak of the Season" by Summer of Surf and since then, she hasn't looked back.
In 2019, Lana went from strength to strength coming third in the Coolangatta Gold, third in the Kellogg's Nutri-Grain Series, she was the Queensland Ironwoman champion and also the Australian Open Female Belt Race Champion, cementing herself as one of the best in the country. 
The following summer 2019/2020 Lana continued her dominant display and went two further in the Kellogg's Nutri Grain Series and the Coolangatta Gold becoming the champion of both.
"Back yourself. Trust the journey. Now let's go."
Fun Facts About Lana:
∞ Lana has a degree in secondary teaching from the University of the Sunshine Coast
∞ Lana's go to INFINIT product is Jet Fuel - she loves it so much that in 2019, we put her on the bag!
 Follow Lana on Instagram @lana_rogers
2020 Tarawera Ultra Marathon 50km - 2nd Overall
2020 The Guzzler 100km - 4th Overall
2021 Brisbane Trail Ultra 50km - 1st Overall
2021 Six Foot Track Marathon - 1st Overall
2023 Ultratrail Australia 50km - 3rd Overall
As a typical Aussie kid growing up in the suburbs, Ben played team sports including rugby and cricket. He was introduced to the pool at a young age which taught him the strength, patience and dedication to succeed in endurance sport. HIgh school saw Ben take up running which he excelled at almost immediately, posting some impressive results, but also succumbing to some painful injuries.
Once out of high school, Ben took to the mountains of Europe where he represented Australia at the World Mountain Running Championships as a Junior in 2010 and 2011. While running up mountains was satisfying, Benny wanted to go longer, and so his foray into ultra distance running began.
Ben is now a household name amongst trail running circles having won and podiumed at many high profile events in the Oceania region including Ultra Trail Australia, Tarawera Ultramarathon, Surf Coast Century and the 9 Dragons 50km in Hong Kong. He is also a respected and highly qualified coach. With a Science degree under his belt as well as qualifications in long distance run coaching and strength and conditioning, Benny is one smart cookie and definitely an outstanding investment in runner's ultra journey. In his own words, "As much as I enjoy pursuing my own dreams, it brings me even more satisfaction to help others reach their dreams".
We love having this guy on our Team and love even more that he is keen to change up his nutrition and try new things! Ben is absolutely the poster boy for trialling his nutrition in training - a good habit to pick up!
"I choose Infinit because every athlete is slightly different and hence has slightly different nutritional needs. Being able to create a Custom Blend means I can easily get the exact nutrients my body needs during ultramarathons, while avoiding an upset stomach."
Fun Facts About Ben:
∞ Ben has a Bachelor of Science (Physics Major, Honours Class I), a Masters in Education and numerous coaching accreditations - he is potentially the smartest guy we know!
∞ Ben played team sports growing up and only started running up and down mountains when he left high school.
 Follow Ben on Instagram @benduffus
Molokai 2 Oahu Paddleboard World Record Holder - 4:43:46 (2019)
2016 - Molokai to Oahu Prone Stock Paddleboard Champion
2017 - Molokai to Oahu Prone Stock Paddleboard Champion
2018 - Molokai to Oahu Prone Stock Paddleboard Champion
2019 - Molokai to Oahu Prone Stock Paddleboard Champion
2022 - Bluewater Classic Champion
Born and raised in Redhead on the NSW Central Coast, Stewart McLachlan was introduced to the ocean by his parents when they enrolled him at Nippers as a 9 year old. Stew took to Nippers at his local Surf Lifesaving Club like a fish to water. Fast forward to the present, and Stew is a 3 time Australian Open Paddleboard Champion, the current Molokai to Oahu Paddleboard Champion and record holder, a University graduate and is looking to study a PhD. This guy is talented on so many levels.
Known to many in Surf Lifesaving circles as 'The Wriggler', Stew is one of only two people to win three consecutive Australian Paddleboard Championships in the history of the sport. Comprehensive wins in 2013, 2014 and 2015 were backed up by his historic Molokai to Oahu win in 2016. The Wriggler completed the 51.5 kilometre (32 mile) event in 5:05:41, a new course record smashing the previous best time by nearly 7 minutes. And all of this – on debut.
Away from the ocean, Stew is a keen runner, tennis player and surfer. Stew likes to spend time with his family, his dogs and his XBOX. Stewart is the perfect example that Infinit Nutrition can be used in all facets of endurance sport – both on land and in the water! We are stoked to have Stew on the team and look forward to fuelling him to more records in the future!!
"Quality not quantity. Be specific or don't bother."
Fun Facts About Stew:
∞ Stew's dream job is to be a Pilot!
∞ As a toddler, Stew would have sheep's brains for dinner on a weekly basis - his Mum believed it would make him smarter!
  Follow Stew on Instagram @thewriggler
5 x Australian Open Surf Race Champion
2018 Bronze Medallist 10km - Pan Pacific Open Water Championships
2020 Australian Open Water Swimming Champion 10km
2022 Australian Open Water Swimming Champion 5km
2022 Australian Open Water Swimming Champion 10km
2023 Australian Open Water Swimming Champion 10km
Nick Sloman is the undisputed King of Open Water Swimming in Australia, consistently winning back-to-back 5km, 10km and Open Surf race titles in recent years.  Nick is a 5 time surf race champion at 'The Aussies', having won every surf race held at the meet since 2018.
Having been born with webbed toes on one foot, Nick was destined to be a top level swimmer!  The Noosa local has been competing both in the pool and in the surf from a young age, and worked out early on that a top class fueling strategy works wonders for endurance swimming.
Having only just heartbreakingly missed out on selection to the Australian Team for the 2020 Tokyo Olympics, Nick has deferred both study and work to concentrate solely on his swimming career.  Nick is determined to don the Green and Gold in Paris in 2024, and we will be behind him 100% of the way.
Look out for our 'Slomo' - in the words of Nick's swim coach, the legendary John Rodgers ....... this guy is 'the Real Deal'.
Fun Facts About Nick:
∞ Nick's favourite pre-race meal is Butter Chicken!
∞ Nick is an avid golfer in his spare time away from the water.
 Follow Nick on Instagram @nick_sloman
2023 Ironman 70.3 Sunshine Coast - 2nd Female Pro
2023 PTO Asian Open, Singapore - 8th Female Pro
2023 Ironman Asia Pacific Championship, Cairns - 2nd Female Pro
2023 Ironman Australia - 2nd Female Pro
2023 Ironman 70.3 Geelong - 2nd Female Pro
2022 Ironman 70.3 Melbourne - 4th Female Pro
Born and bred in the Czech Republic, Radka began her triathlon journey as a 15 year old after being approached by a local triathlon coach who asked her if she was interested in giving the sport a go.  Radka accepted the coach's invitation and has been racing ever since.  She started out racing ITU and Olympic distance events in 2004, however took a keen interest in the non-drafting events, and raced her first 70.3 in 2012.
Since 2013, Radka has won in excess of 20 Ironman 70.3 titles, as well as countless podium appearances.  She has recently turned her hand to the longer Ironman distance triathlon, and makes her debut appearance on the IM World Championship stage in 2023.
"INFINIT has been a huge advantage in my training and racing. Their recovery formulas helped me train hard day after day, and my custom hydration blends are dialed in perfectly."
Away from triathlon, Radka is a devoted Mum of 2 young girls, an avid gym goer and an amazing contributor to the local sporting community in her regional NSW home town of Wagga.
Fun Facts About Radka:
∞ Radka competed at the 2012 Olympic Games in London
∞ Her favourite post race meal is chocolate milk and a steak
∞ She loves making smoothies with her INFINIT Renew
 Follow Radka on Instagram @radkakahlefeldt1 
2023 Oceania Continental Championships XCO - 4th Elite
2023 Auscycling MTB National Series - 2nd Elite 
2022 Oceania Continental Champion - U23 XCO
2022 Australian National Champion - U23 XCO
2020 Australian National Champion - U23 XCO
2018 Ranked 2 worldwide in the Junior MTB Rankings
2017 Junior World XCO MTB Champion
One of the youngest members of Team INFINIT, Cameron Wright is a gifted athlete. His overall endurance and his bike handling skills are second to none on the trails.  
Cameron emerged as one of the sport's top young talents when he won the XC World Championship as a junior in 2017 . In 2018 he swept the Australian national series, winning all six events in the junior category plus the Australian national championship and the Oceania Championship.
"The best part about Infinit is that I don't need to take gels, bars etc whilst racing, all I need to remember is to drink! How easy is that?!?"
Moving into the U23 ranks, Cam showed his dominance there as well, winning multiple National and Oceania Championships.  Having raced bikes since he was 8 yeas old, his passion and love for the sport drives Cam to compete at his best in the Elite category.
When he isn't riding his bike, Cam loves to spend time with his girlfriend and his family, and get out and about with his mates.
Fun Facts About Cam:
∞ He is of South African decent
∞ His dream is to compete at an Olympic Games
∞ His favourite INFINIT Recovery treat is :REPAIR
 Follow Cam on Instagram @cam_mtb_boy